February 12, 2018 | A to Z Wineworks
What A to Z Wines Pair with Sushi?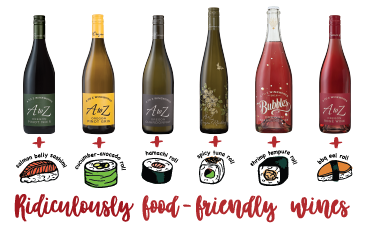 A to Z Pinot Noir & Salmon Belly Sashimi
The bright red fruit and fine tannins of our A to Z Pinot Noir make a classic pairing with luscious, flavorful salmon.
A to Z Chardonnay & Hamachi (yellowtail tuna) Roll
Our unoaked Chardonnay is fresh and lively. Its notes of citrus and melon will perfectly balance the rich butter flavor of Hamachi.
A to Z Pinot Gris & Cucumber Avocado Roll
A to Z Pinot Gris is juicy and balanced, and can be the perfect pairing for the bright green flavors found in vegetables like cucumber and avocado.
A to Z Riesling & Spicy Tuna Roll
Any aficionado of spicy food will tell you that Riesling is the ideal pairing. Ours features plenty of complex aromas with just a touch of sweetness to complement the fiery chili flavors of this roll.
A to Z Bubbles & Shrimp Tempura Roll
The juicy, ripe fruit aromas and mouthwatering acidity of our Bubbles will balance the rich, crunchy shrimp tempura perfectly.
A to Z Rosé & BBQ Eel Roll
Our A to Z Rosé is bright and rich at the same time, with plenty of red fruit flavors and refreshing acidity, making it a perfect match for the sweet and savory flavors found in a BBQ Eel Roll.
Comments
Commenting has been turned off.