TOP
About Nieko McDaniel
Current Artist in Residence
Artist Statement
I am interested in how we try to escape reality through our imaginations. This led me to an interest in world-building, that is, creating from entirely new fictional worlds, while recognizing that anything we create inherently references our experiences in reality. Like many artists, my artwork acknowledges my identity through expressed opinions, ideas, and work on topics like race, love, innocence, and identity. These are serious topics and that often show the vulgarity of placing stereotypes and negative characteristics on minority cultures.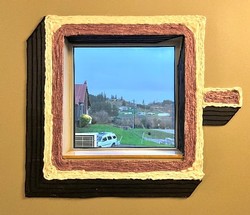 1. Que Hace Tiempo?
Acrylic, Cardboard, Yarn, Wine Dyed Yarn
49" x 58"
2021
Besides making social commentary in my artwork, I am also interested in materials and textures, humor, and the joy in artmaking. I enjoy working on a series of works called "Yarn Bombings" which function as if they are graffiti artifacts from a new environment in my imaginary world. For these, I must create the very foundations that will hold the graffiti yarn bombs by tearing, cutting, and folding materials to feel like extractions from an imagined urban environment. I paint illegible, graffiti-like, symbolic monikers on the foundation I've made and line the moniker with yarn for visual depth. I use color theory and texture experimentation to determine how the final product will look and be displayed using very specific colors, materials, and texture to allow everything to respectively illuminate each other.

2. Camouflaged
Acrylic, Cardboard, Charcoal, Lees, Yarn, Wine Dyed Yarn
60" x 48"
2022
In this series, I subvert the idea of graffiti and yarn bombs that appear in actual urban areas. Generally, graffiti "bombing" refers to a quick, spray-painted stamp of one's moniker. "Yarn bombs" are crocheted sleeves wrapped around public objects like trees, fire hydrants, or street signs. Tags or graffiti signatures are often names or letters but they can also be quick drawings or even just lines that create imagery. My monikers were originally influenced by the American alphabet and Japanese characters, and I regularly practice writing tags to ensure they remain fluid and fresh.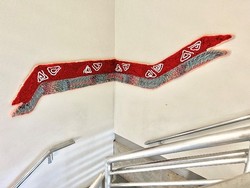 3. Slip Space
Acrylic, Cardboard, Yarn
117" x 25"
2022
My yarn bombings are part of a new world environment extracted from my imaginary world where there is graffiti everywhere. It is there for visual beauty, but it also operates as notoriety of someone's presence, and communicates to all those who inhabit the environment. In the city of Pompeii, it is documented that graffiti was used regularly on their architectural structures as a form of communication to relay messages to a large group of people.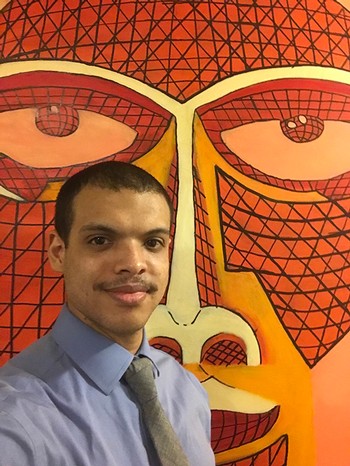 Biography:
Growing up in Southern California, Nieko McDaniel was influenced by an urban lifestyle of graffiti, street art, hip-hop, and rap. He is interested in world-building, recognizing that we try to escape the current world through simulation and invention. Using repurposed materials, McDaniel makes work about identity and escapism. He is influenced by the types of entertainment his Millennial generation prefers in literature, music, movies, comics, television, and video games.
McDaniel is an Adjunct Art Professor for North Carolina's Rowan-Cabarrus Community College and Southern California's Palo Verde College. In November of 2021, McDaniel became the Artist in Residence for Oregon's A to Z Wineworks.