October 4, 2017 | A to Z Wineworks
Pork Enchilada
Adapted from foodnetwork.com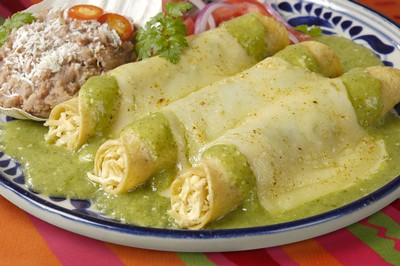 Ingredients
1 large white onion, chopped
1 lb tomatillos, husked and halved
3 jalapeños, seeded and halved
3 cloves of garlic
1/4 c vegetable oil
2 lbs boneless country ribs, cut into 2-inch cubes
3 cups chicken stock
1 small handful of chopped cilantro
Salt
Pepper
24 corn tortillas
4 cups shredded pepper jack cheese
Directions
Preheat the oven to 375º. Toss the vegetables with the 1/4 cup of vegetable oil, and place on a foil-lined sheet pan. Roast until browned, for about 30 minutes. Heat 1/4 cup of oil in a large, heavy-bottomed pan. Brown the pork, in batches if necessary, until well-browned on all sides.
Puree the vegetables in a food processor and add to the pan, along with the chicken stock. Cook for about an hour to 90 minutes, until tender. Remove the pork and shred with two forks. Mix in half the celantro.
Wrap the tortillas in a towel and heat in the microwave for one minute. Roll 1/4 cup of pork and two tablespoons of cheese in each tortilla. Place into a greased 9x13" pan. Pour the green chilil over the enchiladas and top with the remaining cheese. Cook for 30 minutes or until cheese is melted and bubbly.
Comments
Commenting has been turned off.