May 3, 2016 | Food & Wine Pairings | Jonathan Lampe
Playing with your food - Kettle Chips part 1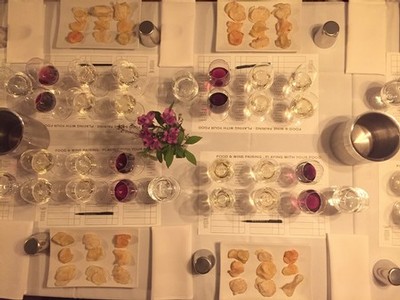 College days aside, I've not really considered a bag of potato chips to be a meal. With the diversity of flavors seen on the grocery shelf these days, however, most of the flavor components of your favorite dish are represented. Sweetness can be found in Honey Barbeque or Maple Bacon flavors, acid in Salt & Vinegar, spicy heat in Jalapeño. Of course, they all have the salt element.
It made sense, then, when I attended a wine tasting here at the winery that took this concept and applied it to wine pairing. We were provided a variety of chips and wine with which to create pairings and see how the flavors came together.
I often mention to folks in the tasting room how well our Chardonnay goes with salt in food. It was a pleasant reminder to see that the humble, plain potato chip could have quite an effect on the flavor of the Chardonnay. It also provided me inspiration for my next movie night snack.
Even more interesting was how the Barbeque flavor and the Maple Bacon both paired so well with Pinot Noir. Both flavors provided a sweetness that complimented the earthy tartness of the wine such that I plan to open a Pinot the next time I heat up the grill.
Perhaps the best part was that this exercise is easily and inexpensively replicated. If you enjoy hosting wine tasting nights with friends, pick up a few bags of chips and see what flavor combinations surprise you.
Comments
Commenting has been turned off.