September 13, 2017 | Carrie Kalscheuer
Oregon Chardonnay - One of the Most Exciting Developments in American Wine Today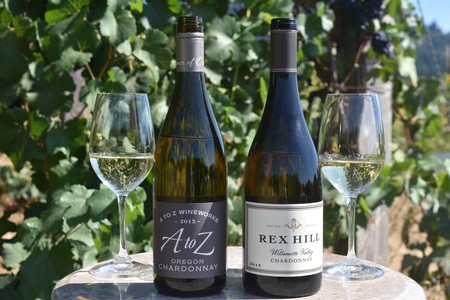 Chardonnay is one of the most widely-planted grapes in the world. Commonly known as "the winemaker's grape" due to its ability to handle many different treatments in cellar, Chardonnay styles can range from fresh, vibrant, fruit-driven wines with bracing acidity and restrained alcohols in cooler regions to riper, richer styles showing tropical flavors, low acidity and high alcohols in warmer to hotter regions. Although Chardonnay was originally from the Burgundy region in France, for years Chardonnay plantings in the U.S. were concentrated in California, ushering in a fashion of powerful Chardonnays with heavy oak, toast, sugars and high alcohols.
With a naturally low flavor profile, Chardonnay can act as a tabula rasa expressing the unique properties of the vineyard and region in which it is grown. Pinot Noir, with fewer anthocyanins than other red grapes, can serve a similar function. For this reason, Pinot Noir and Chardonnay have been planted next to one another in cool climates for centuries. It was natural that the Oregon wine pioneers planted Chardonnay alongside Pinot Noir as far back as the late 1960s. At that time, the available clonal material (cuttings that have adapted or been propagated to show different traits in different climates and soils) was almost exclusively the heat-treated, heat-adapted clone developed for late ripening in California. This warm climate clone resulted in a majority of opulent wines with heavy oak flavors and high alcohol and brought disappointing results in cool climate Oregon, where optimal ripening was only happening in the warmest of years.
Working with Oregon State University in the late 1980s and early 1990s, Oregon vintners brought into the country new clones of Chardonnay and Pinot Noir from Burgundy. These so-called "Dijon Clones" were chosen for their ability to ripen in a cooler region, showcasing a delicate freshness and bright acidity. With this new range of clones, Oregon winemakers could more accurately choose the right vines for the right site (with some vineyards planted to "field blends" of many clones) giving winemakers different flavors and ripeness levels to work with at harvest.
As Americans began a love affair with fresh food, overly-manipulated, powerful Chardonnays were found too dominant compared to those more able to companionably accompany food. These good partners, vibrant and exciting wines highlighting the natural expression of the grape and growing site, most often came from cool climate regions including Oregon's lively expressions of Chardonnay.
Sitting between 42 and 47 degrees latitude, Oregon's growing regions are perfectly suited for Pinot Noir and Chardonnay ripening. Long warm days followed by cool nights retain the vibrant acidity that makes Oregon Chardonnay a perfect food wine with a distinct ability to age in cellar. Today, Oregon Chardonnay is on the rise, with recent plantings growing by over 13% in the last two years. Styles can range from bright, linear, stainless-steel fermented wines to mineral-driven, neutral oak styles that show a great deal of depth and complexity. Both are ideal companions for food.
Two to try:
A to Z Wineworks Chardonnay
Fresh and lively, America's best-selling unoaked Oregon Chardonnay is full of citrus, quince and melon flavors offering all of the delights of food-friendly, cool climate whites. A to Z Wineworks Chardonnay shows all the intensity and depth of the vintage yet retains the purity and freshness that Oregon Chardonnay is known for.
REX HILL Willamette Valley "Seven Soils" Chardonnay
Just a touch of oak graces this Willamette Valley Chardonnay, which is hand-picked and sorted. Rich and fruit-driven with a lovely acidity, this elegant expression of Chardonnay is built to please for many years.
Comments
Commenting has been turned off.