February 4, 2016 | Jonathan Lampe
Learning to Prune
I don't have a green thumb. Far from it. I've been known to kill cactus. So you might imagine my apprehension when Karen, our Viticulturist, handed me her pruning shears as we stood in the REX HILL Vineyard this misty February morning. I didn't anticipate our morning field trip and lesson in vineyard maintenance would involve hands-on practice.
Of course, I needn't have worried. Karen showed us how she and our vineyard team prune back last year's growth leaving behind a few select canes that will become the backbone for this year's crop. The process is critical for regulating the number of shoots that will grow this coming season and for keeping excellent fruit quality. Winter pruning kicks off the year for the vineyard team and they work through the cold and the wet to ready the vines for another growing season.
Several factors are taken into consideration including cane thickness, location relative to the guidewires, and number of buds in order to decide what to cut, where to cut, and what to leave alone. Experienced workers can assess and prune a vine in a minute or two. I, on the other hand, took ten minutes just to confirm with Karen (twice) that I was cutting correctly. I didn't want to add Pinot Noir to the list of plants that perished at my hand.
Thankfully, my vine is in good health (even after I was through with it) and has three healthy canes through which it will produce fruit this year. Is it Spring yet?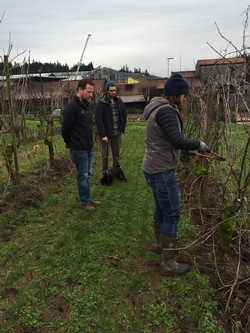 Karen showing Tom & Jonathan how to prune.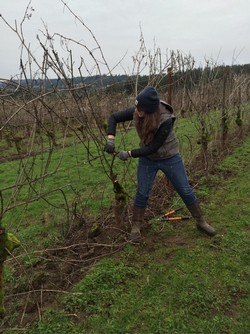 Karen pruning a vine at the REX HILL Estate Vineyard.
Tom taking a turn at pruning while Karen &
Batpug (Tom's dog) oversee.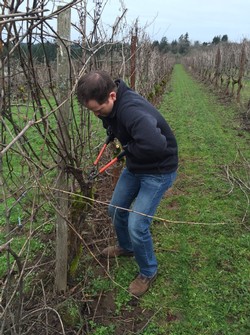 Jonathan's turn!
Comments
Commenting has been turned off.