October 4, 2017 | A to Z Wineworks
Lasagna Bolognese
Adapted from Epicurious.com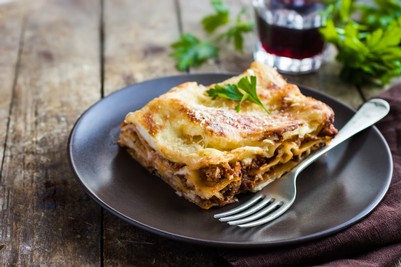 Bolognese Sauce Ingredients
1 large onion, coarsely chopped
1 medium carrot, peeled, coarsely chopped
1 celery stalk, coarsely chopped
2 tbsp olive oil
1 lb ground beef chuck
1 lb ground pork
Kosher salt, freshly ground pepper
A pinch of dry chili flakes
1 cup dry white wine
1 14.5 ounce can crushed tomatoes
Béchamel Ingredients
5 tbsps unsalted butter
1/4 c all-purpose flour
4 cups whole milk, warmed
A pinch of freshly ground nutmeg
Kosher salt
Lasagna Ingredients
1 lb lasagna noodles, cooked according to package
1 lb grated mozzarella
2 tbsp minced parsley
Directions
For Bolognese: Mince onion, carrot and celery. Heat the oil in a pot and add meat. Cook until browned then remove from pan. Add the vegetables and cook over medium heat until soft and turning brown. Season with salt and pepper, then deglaze the pan with the wine. Scrape the browned bits from the bottom of the pan. Add the meat back to the pan and add the chili flakes and tomatoes. Cook over low heat for two hours.
For Béchamel: Heat the butter over medium heat until melted. Add flower and whisk until smooth. Add 1 cup of milk at a time, and whisk until thickened, about 8 minutes. Season with salt and nutmeg.
To make lasagna, layer in the following order: béchamel, noodles, Bolognese, mozzarella. Finish with a layer of béchamel and top with parsley. Cover with foil and cook at 350º for one hour. Let the lasagna sit for 45 minutes before serving.
Comments
Commenting has been turned off.