August 19, 2011 | Viticulture & Sustainability | Ryan Collins
Columbia Gorge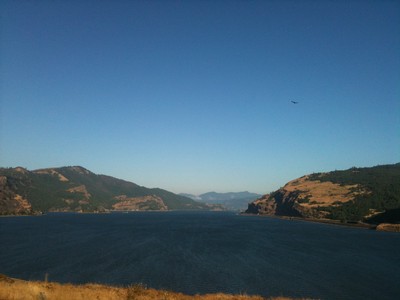 Probably one of my favorite place in Oregon is the Columbia Gorge. The fast flowing rivers, the dramatic cliffs, water falls and the forever blue sky's never cease to take my breath away. As you drive east from Portland the landscape changes from dense conifer to woodland forest then to semi arid scrubland. This change in landscape starts around Hood River and continues to become more dramatic as you drive east. The influence of the Cascade mountain range is more than just physical presence. When the frontal systems roll in from the Pacific Ocean the moisture laden air has to ascend the mountains to continue east. As it ascend the temperatures get colder until the water turns from vapor to rain. This type of rain is dubbed Orographic. One thing that is typical of Orographic rainfall is that one side of the mountain range is always wetter than the other. In this case Portland is on the wet side and Hood river is at the cusp of the dry side.
Today I was visiting one of our growers in Mosier which is about 10 miles east of Hood River. Thanks to the Cascade mountain range the climate out there is warmer, drier and sunnier than the Willamette valley. These factors; sunshine and temperature make it great for growing grapes of many origins. It has enough sunshine hours and heat units to ripen Pinot Noir, Chardonnay, Sauvignon Blanc, Merlot, Syrah and Tempranillo just to name a few.
Summer may be warmer and sunnier than the Willamette valley but winter is much colder. The vines come out of dormancy about a week later. Spring conditions help the vines overtake the WV so fast that flowering in Pinot Noir was a week ahead! Right now they are about 2 weeks ahead and I was seeing the first signs of veraison. The berries are softening, accumulating sugar and changing color. Last year veraison started around the same time 8.18.2011. If it takes approximately 40 days from 50% veraison to harvest we should be picking in the first week of October.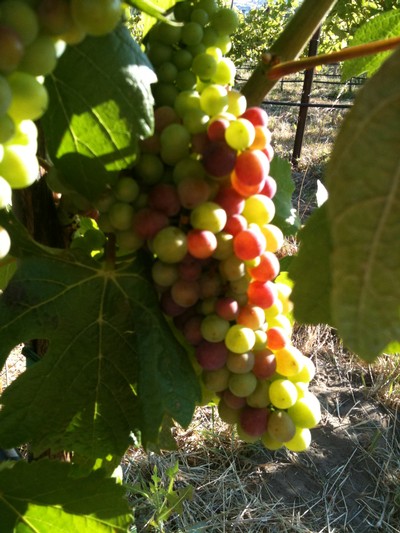 Comments
Commenting has been turned off.