July 6, 2011 | Viticulture & Sustainability | Ryan Collins
BLOOM!
July first rolled around and so has summer! The temperatures have been consistently in the 80's for the last 6 days bringing flowering with it!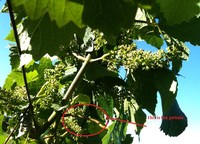 Things to think about when the vine is blooming.
It's a great time for assessing the vines nutrient status. We take plant tissue and send it to a A and L laboratory to analyze the concentration of different nutrients. The tissue we use is the petiole ( connects the leaf to the shoot). For standardizing the procedure we take the petiole located opposite the basal cluster. Tissue analysis at this time (60-70% cap fall) is great for giving you the vines micronutrient status. Whereas sampling at veraison is best for understanding your macro nutrient status.
Micronutrients:
Iron (Fe), Zinc (Zn), Copper (Cu), Manganese (Mn), Molybdenum (Mo), Boron (B), Aluminium (Al), Sodium (Na).
Common Micronutrient deficiencies in Oregon are Boron and Zinc. If there is a deficiency in a micronutrient it will be applied to the canopy in what's called a "foliar application".
Macronutrients:
Nitrogen (N), Potassium (K), Phosphorous (P), Sulfur (S), Calcium (Ca), Magnesium (Mg).
Macro-nutrients problems are best fixed through ground applications.
Other things to think about.
Botrytis! When the flower cap falls off it leaves a scar around the base of the ovary. If this scar isn't protected there is potential that botrytis will infect the tissue. It will sit there until conditions are right for growth. This is called a latent infection.
Botrytis will also colonize any dead flowering tissue that is left in the cluster. Again it will sit there waiting for conditions to become right for further colonization/infvection. What can we do about this? We have to spray the flowers once 85% of the caps have fallen off.
This year in our organic sites we are trying two products Actinovate and Whey as a combination. Actinovate is a bacteria (Streptomyces) antagonist of botrytis and whey acts as a food source for the bacteria (Streptomyces). Trials performed in growers vineyards last year with the USDA showed that this was as effective as some of the synthetic products.
http://www.gwrdc.com.au/webdata/resources/files/BotrytisFactSheet.pdf
Time to harvest.
In Oregon it usually takes 100-110 days from bloom to harvest. If we call bloom today at the REX HILL home vineyard we will be harvesting some time between the 14th and 24th of October.
Who wants to guess the harvest date?
Comments
Commenting has been turned off.