April 14, 2015 | News | A to Z Wineworks
A to Z Wineworks Only Winery to Earn B Lab's Best for Community Honor
A to Z Wineworks Only Winery to Earn B Lab's Best for Community Honor B Lab's award recognizes top-performing Certified B Corporations and their community impact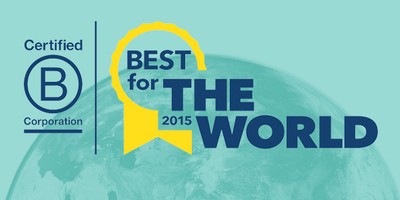 A to Z Wineworks was honored today as the only winery in the world to be recognized by the nonprofit B Lab as a 'Best for Community'. This list sets the gold standard for businesses that earned a community score in the top 10% of more than 1,200 Certified B Corporations on the B Impact Assessment, a rigorous and comprehensive assessment of how a company influences its workers, community, and the environment.
To be considered for the B Corp Best for Community list, A to Z Wineworks had to excel in a variety of areas, including supplier selection, community involvement, grape sourcing, company diversity and more.
"We have always tried to model best practices," said A to Z Wineworks Co-Founder Deb Hatcher. "B Corp provided a way to measure those practices and stimulate other improvements. We hope to inspire others to run their businesses as a force for good."
The 1,200 Certified B Corporations, across 121 industries and 38 countries, are unified by one common goal: to redefine success in business. A to Z Wineworks is committed to maintaining and improving its status as a Certified B Corporation. The company was the only certified B Corp winery in the world when it first achieved certification in 2014.
"Today's honorees inspire all companies to compete not only to be best in the world, but best for the world. We hope many will take the first step by using the B Impact Assessment to measure and manage their impact with as much rigor as their profit," said Jay Coen Gilbert, Co-Founder of B Lab.
About A to Z Wineworks
Based in Newberg, Oregon, A to Z Wineworks has grown to become one of Oregon's leading producers since its inception in 2002. The company's award-winning portfolio includes A to Z, which offers aristocratic wines at democratic prices and is trusted for consistent delivery of quality for value, as well as the esteemed REX HILL. To learn more about A to Z Wineworks, visit atozwineworks.com, and follow the company on Facebook at facebook.com/AtoZWineworks and on Twitter @AtoZWineworks.

About B Lab
B Lab is a nonprofit organization that serves a global movement of people using business as a force for good. Its vision is that one day all companies compete not only to be the best in the world, but the best for the world and society will enjoy prosperity for all for the long term.
B Lab drives this systemic change by: 1) building a community of Certified B Corporations to make it easier for all of us to tell the difference between "good companies" and good marketing; 2) passing benefit corporation legislation to give business leaders the freedom to create value for society as well as shareholders; 3) helping businesses measure, compare and improve their social and environmental performance with the free B Impact Assessment; 4) driving capital to impact investments through use of its B Analytics and GIIRS Ratings platform.
For more information, visit www.bcorporation.net.
Comments
Commenting has been turned off.