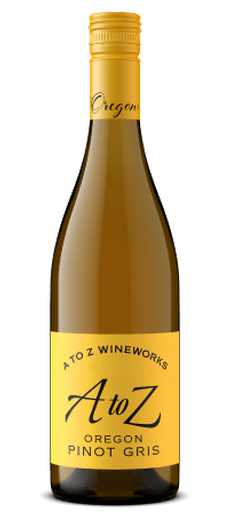 A to Z Pinot Gris
Tasting Notes
The vibrant, light straw-colored 2021 A to Z Wineworks Oregon Pinot Gris has an expressive nose with bountiful fruit -- pear, white peach, apricot, lime zest, papaya, melon, guava, gooseberry – and non-fruit aromas -- honeysuckle, rose, apple blossom, ginger, fresh cut hay, beeswax. The wine is rich and satisfying in the mouth with lip-smacking acidity and a silky texture. Immaculately balanced, it finishes with lingering sweet notes of honey, fresh green grass and a sensation of minerality. Lush and tropical, the 2021 A to Z Wineworks Oregon Pinot Gris delights with or without food.
Pairs well with
GENERAL:
Seriously, this wine goes with just about everything, all the time, including nothing, which is sometimes a fine option, too.
SPECIFIC:
Your favorite backyard BBQ, seafood, pork, roast vegetables, an order of fries, asparagus (yes, asparagus), a bagel with cream cheese and lox, lemon chicken, clams casino, sauerbraten, hot & sour soup, Thanksgiving leftovers, dim sum, that great Cubano sandwich you always get at the food truck owned by that guy with the cool beard, brioche, hot wings, cauliflower purée, seared steelhead with fried leeks and fresh herbs, bánh mi, or a bag of Swedish fish.
SAUCES:
Everything
Recommended Recipe
Pan Roasted Trout with Sautéed Wild Mushrooms and Basil Cream Sauce
1. In a food processor, combine 2 c fresh basil and 4 cloves garlic, and stream 1/4 c olive oil and process until smooth. Heath 16oz heavy cream in a small saucepan on medium-low, until simmering. Add the cream to the basil mixture and pulse for 20 seconds. Return the mixture to the saucepan and simmer until thick.
2. Preheat oven to 350 F. Score and season trout fillets. In a very hot, medium sauté pan add the trout, skin side down, and heat for 3-4 minutes. Flip the trout and place the entire pan in the oven for 5 minutes. Carefully remove pan, remove fish, and allow to rest before serving.
3. In a small sauté pan on medium high heat, add 1 tbs butter and mushrooms. Sauté until the mushrooms squeak.
*Next level: Add parmesan and pine nuts to the garlic-basil mixture to make pesto cream.