TOP
About Adrian Chitty
Artist in Residence 2019 - 2021
Artist Bio:
Adrian Chitty is a photographer living in Yamhill County, Oregon.
His work celebrates craftspeople and artisans, people who work with their hands and lovingly touch every product they make. He chronicles their skill, craft, and passion in an overwhelmingly industrialized and automated world.
Adrian came to photography after nearly two decades in software engineering. Stepping away from that career to become a stay-at-home father afforded him more time to explore his own creative urges and after stints learning metalwork, woodwork and ceramics he came upon the idea of marrying his long-standing love of photography with his rapidly increasing appreciation for the skill and craftsmanship of the people he met in these fields.
After a series of one-day photoshoots, Adrian realized that he wanted to go deeper. Deeper into an individual craft, and longer in time spent absorbing it. The idea of spending a year with a winery was born.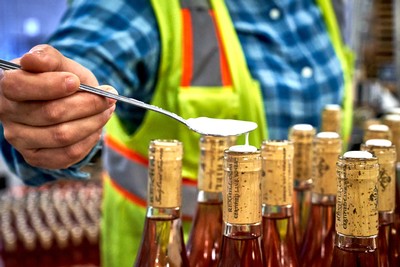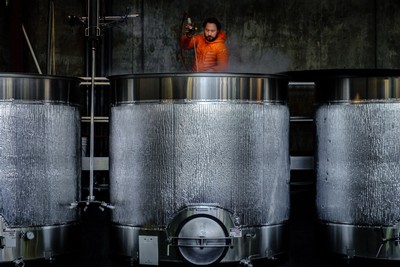 Reflections: Capturing a Transformational Year in the Willamette Valley
Essay By Adrian Chitty
In early 2019 when I originally pitched my idea for a long-form photographic engagement to A to Z Wineworks I didn't have the formal idea or title of "artist-in-residence" in mind. I knew that I had a passion for artisans, a passion for photography, and that I wanted to join them together in a personal project.
After a number of exploratory conversations with Deb Hatcher, one of the winery founders and the creative force behind the A to Z brand, we took our first steps together with me working during grape harvest of 2019. There was no formal photography during this time, although I did manage to squeeze in a few opportunistic shots as I went along. This first phase was about me experiencing the winemaking process firsthand. I took pleasure in making something alongside a fun group of people, working outdoors, the physicality of manual labor, and learning some of the process of how wine is made.
Towards the end of the harvest period we started to talk about the ongoing photographic relationship and how that should be structured. I knew that an artist-in-residence was an artist working within an organization, someone being sponsored to produce art. I surfaced the idea of that title to describe the relationship, and then started on my photographic journey. At that point I didn't fully know what my interpretation of "artist-in-residence" meant, other than the "artist on retainer" idea that I had originally approached the winery with.
The photography for the next 10 months was a joy. I got into the habit of being at the winery about once a week, and I was always able to find something interesting to photograph. There were important elements in the success of this phase. Perhaps most significantly, I had worked an intense harvest season alongside the people I was photographing. They knew me, they trusted me, and most importantly for my images, they behaved naturally and continued with their task when I pointed a camera at them.
But there were also other elements of that period that benefitted my project. Most of my visits to the winery were not pre-arranged to capture a particular event. I just turned up to see what was going on. This helped me capture serendipitous images, giving the broader library of photographs a completeness that wouldn't come from a curated set of experiences predefined by someone at the winery.
I undertook exercises in deepening my own creativity. I revisited the same environments many times throughout the year (for example, the bottling line is largely unchanged for many months at a time) and by photographing them over and over again, I challenged myself to find new ways to compose the images. That discipline of revisiting and re-photographing on an almost weekly basis led to new perspectives and representations that I wouldn't have found in a single visit. By creating a large body of work over an extended period of time, I was able to explore and deepen a style of photography that resonated with both the subject matter and with me personally as an artist.
In spring 2020 the global COVID-19 pandemic crisis was deepening, and I seriously contemplated whether the residency should be put on hold and then revived at a later date when some new normal had been established. During that period of ambiguity I spent my time exclusively in the vineyard, and was able to use that constraint to go deeper into studying the agricultural side of winemaking. In time, thanks to the winery diligently defining new policies and protocols, I was able to restart my onsite visits safely.
My visits to the vineyard became special to me, both in terms of exploring how to represent that time and place through repeat photography trips, but also in terms of watching a full growing season in the vineyard. I saw new buds erupt in spring, I'd never seen a vine flower before, and I saw the fruit slowly develop and change color as the summer progressed. One singular vine became the focus of a more detailed study and I created a real connection to that individual plant.
By the time summer came around I was very much looking forward to the harvest of 2020. All the signs were good: reports of wonderful fruit and blocks of time to concentrate on photography. And then unfortunately we had two weeks of wildfire smoke during September, which resulted in an attenuated harvest with smaller workloads and not nearly as much of the "magic" of my 2019 experience. But it did give me more time to photograph. And alongside the pandemic it also gave me an unprecedented year in the life of the Willamette Valley to document.
After harvest concluded I stopped taking new photographs and turned towards reflecting on the body of work I had created. The process of reviewing nearly a thousand images and thinking about my experiences over that year led to two very clear statements that I wanted to make with my work. I wanted people to see the army of winery and vineyard workers who operate tirelessly behind the scenes every day of the year to get the wine into your bottle. And I wanted people to see the large amount of physical messy work that is involved in making wine.
An artist-in-residence's role is to reveal a perspective of an organization that people outside that organization would not normally be able to see.
It was at this point, a year after becoming A to Z's Artist in Residence, that my understanding of what that term meant became clear. An artist-in-residence's role is to reveal a perspective of an organization that people outside that organization would not normally be able to see. I came into the project wanting to make a study of winemaking: the process by which wine is made. I came out of the project specifically wanting to show the human elements of that craft: the people, and the hard, diligent work.
The residency ended up being much more than I hoped it would be when I started. I created a deep library of images that document an extraordinary year in the life of the winery. I was given total creative control. I pushed myself creatively and reached an understanding of my artistry that was accelerated by focusing on one project in such depth for so long. And I left behind a series of images showing the human element of winemaking that can now be seen by everyone who visits the winery's tasting room.
Exhibitions
Chehalem Cultural Center - 'Transformations' - A to Z Wineworks' Artist in Residence, a Year in Review - 1/5/21 to 2/28/21
REX HILL Tasting Room - ongoing
Articles and podcasts
Newberg Graphic - Meshing Winemaking with Photography - 3/9/20
Oregon ArtsWatch - Photographing the craft and grit of winemaking - 1/17/21
Newberg Graphic - 'Transformations' exhibit captivates at Chehalem Cultural Center - 1/27/21
Vinediction blog - Adrian Chitty Artist in Residence - 2/20/21
FoodLove: The Space Between Terroir and the Tao of Food - FoodLove 4: Adrian Chitty - 3/5/21
Talks
Chehalem Cultural Center - exhibition artist reception - 1/8/21
A to Z Wineworks - National Marketing Meeting - 2/5/21
Linfield University - Wine Lecture Series - 3/9/21
A to Z Wineworks - Viticulture and Production - 3/25/21
National Print Advertisements
Harper's - August 2020
Oprah Quarterly - Spring 2021
Allrecipes - April/May 2021
Awards
2 images shortlisted for the Pink Lady Food Photographer of the Year 2021 competition, in the "Errazuriz Wine Photographer of the Year - People" category