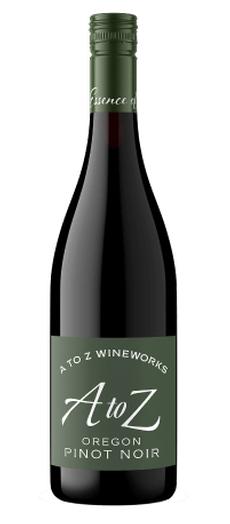 A to Z Oregon Pinot Noir
Tasting Notes
The 2021 A to Z Wineworks Oregon Pinot Noir opens with compelling aromatics suggesting red fruit (berries, plum, cranberry, pomegranate), spice (clove, turmeric, gingerbread), herbs (tea, thyme, mint, lavender), wood (spruce, cedar) and savory (bacon, dried mushroom) notes. The palate is succulent and round, with flavors like blackberry, black cherry, and pomegranate at the forefront. The oak profile adds complexity with hints of sandalwood, mesquite, vanilla, sweet spices, coffee, and chocolate. Structured tannins pair with fresh, balanced acidity to give the wine focus and precision as well as length. Faint flavors of cherry, purple flowers, and an herbal touch linger on the finish. The expressive 2020 A to Z Wineworks Oregon Pinot Noir presents a generous personality.
Pairs Well With
Dancing with bright acidity that is perfectly balanced by soft tannins, our Pinot Noir is versatile enough to pair with a range of dishes, from subtle to full-flavored. We recommend rich meats like pork and duck, and full-bodied seafood like salmon. If you're feeling fancy, whip up a sweet and sour gastrique (like the one below) to become the food and wine hero of the universe. Not feeling fancy? Pair it with pizza from your favorite local takeout place and you just might.
Our Pinot also shines at outdoor gatherings, pairing well with grilled meats and vegetables and anything covered in BBQ sauce, or simply by itself as a delicious accompaniment to quality time with your favorite people.
Recommended Recipe
Grilled Duck Breast with Arugula and Cherry Gastrique
1. Score and season the skin side of the duck. In a hot pan, sear the duck, skin side down, for 30 seconds, then lower the temperature to low and render the fat for 30 minutes. Remove the duck and reserve the fat. Season the flesh side. On a very hot grill, add the duck, flesh side down, for 4 minutes, then flip for 1 minute. Remove, and allow to rest before slicing.
2. Toss arugula in olive oil, salt & pepper, and a squeeze of lemon.
3. Add 3 tbs sugar to a saucepan over medium-high heat until the sugar begins to melt. Gradually add 1 tbs red wine vinegar, then add 1c cherry juice, and stir until think enough to coat a spoon.
*Next level: add 1 ½ c chicken stock to the sauce while it reduces to add richness.